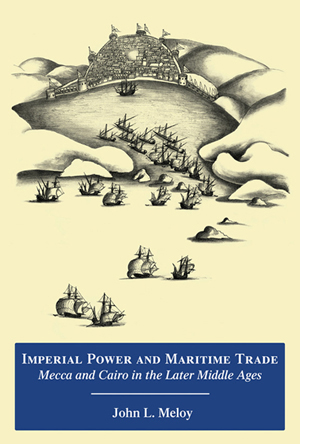 When scholars of Middle Eastern and Islamic history consider Mecca or its region, the Hijaz, they tend to focus on either the first century of Islam, when the city and region became briefly the center of an incipient empire, or the twentieth, when the city was the center of the Arab Revolt. More than a thousand years of history in between are relatively unknown. The pre-modern imperial cities of Damascus, Baghdad, and Cairo quickly superseded Mecca as centers of politics and long-distance trade, leaving Islam's premier holy city with its singular role as the destination of the great pilgrimage. Of course, the religious significance of Mecca attracted the attention of neighboring rulers, such as the Mamluk sultans of Cairo, who claimed sovereignty over the city to enhance their reputations as paramount Muslim rulers in the later medieval period. Since these claims were written into the Mamluk historical record, the principal means of viewing late medieval Mecca, the standard conception of the city's history has been skewed by its role as the ritual center of Islam and dominated by its relationship with Cairo. Yet when one considers that Mecca and its port of Jedda lay midway between the vital trading networks of the Indian Ocean and the Mediterranean, one finds cause to question the received view of the Holy City.
Using sources composed by late medieval Meccan scholars alongside the more well-known Mamluk material, this study presents the history of late medieval Mecca and the Sharifs who ruled the city by examining their relations with local and global forces: their alliances with local groups in the Hijaz, their relations with the imperial center of Mamluk Cairo, and their reliance on the maritime trade of the Indian Ocean.
The revised paperback edition (2015) includes additions and corrections to the text, as well as a preface that discusses new sources and research that have become available since the publication of the first edition (in 2010).
John L. Meloy is an Associate Professor in the Department of History and Archaeology at the American University of Beirut.
Dust jacket image based on an illustration of ships at Jedda in 1517, in Gaspar Correa, Lendas da India, (1858), between pages 494–95. Courtesy of The William B. Greenlee Collection, The Newberry Library, Chicago.
Available in bookstores, or download the order form and mail with payment to:
Marlis J. Saleh, Editor
Chicago Studies on the Middle East
JRL 560, Regenstein Library
1100 E. 57th St.
Chicago, IL 60637
Books in this series may also be available online from
The Seminary Co-op Bookstore:
---